Let's Talk About – Apprenticeships
11th May 2017 – FREE EVENT, Let's Talk about apprenticeships on Wednesday, 17th May 2017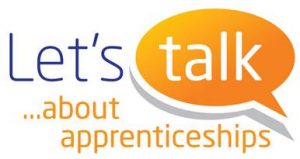 Let's Talk About – Apprenticeships – FREE EVENT
Tarporley, United Kingdom, Oulton Park Circuit – CW6 9BW
Wednesday, 17th May 2017 from 08:00 to 11:30 (BST)
If you're a small business in West Cheshire can you afford to miss this Cheshire West Apprenticeship Event?
Cheshire West and Chester Council are hosting this SME targeted apprenticeship breakfast event on Wednesday 17th May 2017 at Oulton Park, Tarporley CW6 9BW.

Why should you attend:-
We aim to inform SMEs from across the borough of the new apprenticeship reforms which were launched on 1st April 2017
Find out about the financial/business incentives available for smaller businesses to engage with apprenticeships either as a means to recruit new staff or upskill existing employees.
There will be facilitated workshops for employers so they can apply the information learnt on the day within their own business plans.
There will be a chance to quiz an expert panel to support you to better understand the apprenticeship support offer.
There will be an opportunity to meet experienced apprenticeship training providers who deliver in the West Cheshire area across a range of job roles/ sectors
This event is all about helping you to increase you to find out if an apprentice is right for your business and find how to go about recruiting someone.
To BOOK your place: https://letstalkaboutapprenticeships.eventbrite.co.uk
We look forward to seeing you there!
If you need any more information regarding this event please contact us on business@cheshirewestandchester.gov.uk